The cleaner combustion profile of gas relative to other fossil fuels signals stronger long-term growth potential than oil or coal. However, securing that opportunity largely in premium export markets depends on improving the gas industry's environmental credibility, especially regarding the methane emissions that can undermine the fuel's lower burner tip CO2 emissions.
The challenge is large, but so too is the prize. In Validere's view, the first step toward rebuilding that credibility and earning returns on emissions-reduction capex comes from a transition from generic emissions factors to measurement-based emissions calculations.
Why today's emissions measurement methods aren't enough.
For CO2 emissions from combustion processes — engines, furnaces, etc. — an accounting approach based on the fuel burned, typical combustion efficiencies, and equipment-specific usage rates provides an accurate assessment. But measurement of methane emissions is notoriously difficult because they are highly variable in space and time. This makes it more difficult to build a complete picture of emissions relative to stack testing or other standard methods for other pollutants.
The U.S. oil and gas industry's primary required methane emissions regulatory filing–the Environmental Protection Agency's 40 CFR Part 98 Subpart W — estimates methane emissions based on an inventory of equipment and activity factors. The EPA recently proposed revisions to data elements under its Greenhouse Gas Reporting Rule, including amendments to Subpart W (covering petroleum and natural gas systems).
We expect that this rulemaking has been complicated by the recently passed Inflation Reduction Act that mandates additional amendments not covered in the current proposal. So, while we expect that the future amended Subpart W will include requirements to report additional emission sources (including "other large release events") and amend methodologies (such as what is proposed for pneumatic devices), the timing of these changes is in limbo.
However, in the interim, companies also need to grapple with emergence of additional emissions-measurement pressures:
SEC proposed rule
In response to demand from investors for broader, actionable metrics on the risks climate change poses to companies and their shareholders, in March 2022, the Securities and Exchange Commission proposed a rule requiring companies to report both scope 1 and 2 emissions, and climate-change business risks. A final rule is expected by the end of this year. Although the rule will not include a near-term measurement imperative, we expect this risk-assessment disclosure requirement to sharpen investors' and companies' focus on identifying actual emissions and rectifying deficiencies.
Satellite data
Satellite imagery reveals the extent of super- and ultra- emitter methane emissions, and can undermine the value of certifications where claimed certifications appear to outpace regional improvements. Launched in 2020, Europe's Topomi satellite provides evidence of widespread methane emissions. The Environmental Defense Fund's MethaneSat is set to launch in the first half of 2023.
Academic studies
A recent Stanford study reaffirmed large disconnects between measured methane emissions and inventory-based estimates, especially from tank batteries (Figure 1). Another recent academic study used airborne sampling to survey flare efficiency, finding aggregate flaring efficiency of 91% rather than the 98% typically used by industry and government. We do not expect this result to be generalizable across basins and timeframes, but until oil and gas companies across the value chain implement better measurement programs, they lack credibility to rebut intermittent studies like this.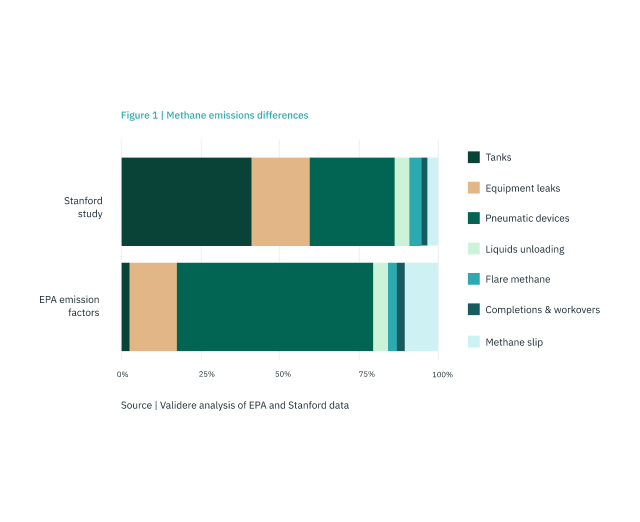 The emergence of these measures means that companies cannot simply defer action on the basis that the use of generic, annual, averaged emission factors are mandated through reporting regulations, turning a blind eye to the fact that those emission factors provide poor representation of actual emissions in many cases. A democratization of third-party data and mounting pressure from investors and other stakeholders demands action now, faster than future regulatory changes.
Measure and reconcile emissions and operations data.
Harnessing and reconciling both operational and emissions data will allow operators to differentiate themselves relative to peers based on environmental performance. For more information about Carbon Hub, which brings together and helps reconcile operators' disparate data sources, connect with us at contact@validere.com.
Download the full Validere Insights report to learn more about the five actions the U.S. gas industry needs to take to secure its commercial and environmental future.